Last updated on September 23, 2021
Brand Name: Effexor XR
Active Ingredient: venlafaxine hydrochloride
Indication: Treatment of diabetic neuropathy (investigational)
Company Name: Wyeth-Ayerst
Availability: Approved by the FDA in 1993 for the treatment of depression and anxiety
Effexor: Introduction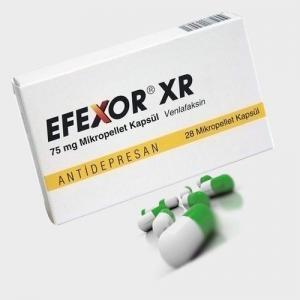 The drug Effexor (venlafaxine hydrochloride) was approved by the FDA in 1993 for the treatment of depression and anxiety. An extended-release once-daily dosing preparation, Effexor XR, received marketing clearance in 1997. Now Effexor XR is showing promise for ameliorating the symptoms of another disorder: diabetic neuropathy. The results of the study were reported at the 60th annual meeting of the American Diabetes Association in June 2000.
In doses ranging from 150-225 mg/day, Effexor XR had significantly higher analgesic response rates compared to placebo. The drug is manufactured by Wyeth-Ayerst Laboratories, a division of American Home Products.
Effexor: How It Works
Effexor is a serotonin and norepinephrine reuptake inhibitor. Both serotonin and norepinephrine are involved not only in mediation of mood but also perception of pain.
Effexor: Clinical Study Results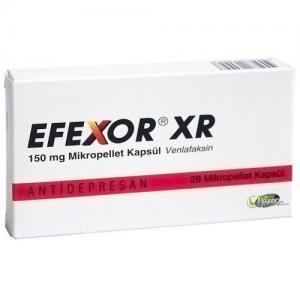 The efficacy, safety, and tolerability of Effexor XR as a treatment for painful diabetic neuropathy were assessed in a double-blind, placebo-controlled, parallel-group multicenter study. A total of 244 patients age 18 or older with type 1 or type 2 diabetes were randomly assigned to receive treatment with Effexor XR 75 mg, 150-225 mg, or placebo for up to 6 weeks.
Primary efficacy was measured by patient self-rating assessments of pain intensity and pain relief using a Visual Analog Scale (VAS-PI and VAS-PR). Secondary efficacy was determined by patient self-ratings of pain relief on the Patient Global Rating of Pain Relief scale, and by investigator-rated assessments of pain on the Clinical Global Impressions Severity of Illness (CGI-S) and Clinical Global Impressions Global Improvement (CGI-I) scales.
On both primary outcome measures, Effexor XR 150-225 mg produced significantly greater pain relief at all evaluations compared with placebo. Effexor XR 75 mg produced significant pain relief, compared with placebo, on the VAS-PR scale at weeks 2, 3, and 5. Additionally, by week 6, 56% of patients treated with Effexor XR 150-225 mg experienced significantly lowered pain intensity, compared with 39% treated with Effexor XR 75 mg and 34% given a placebo.
On all secondary measures, similar statistical superiority over placebo was demonstrated for Effexor XR 150-225 mg. Since the presence of major depressive disorder was an exclusion criterion in the study, symptom improvement was attributed to analgesic, rather than an antidepressant, effect.
Effexor: Adverse Events
The most common adverse event associated with Effexor XR was nausea. Other side effects that may occur with use of Effexor XR include insomnia and nervousness, anorexia and weight loss, and sustained hypertension. Because Effexor XR may interact with monoamine oxidase inhibitors, it is recommended that it not be used in combination with these agents, or within at least 14 days of discontinuing treatment with an MAO inhibitor.