Last updated on November 16, 2020
(British Approved Name, US Adopted Name, rINN)
Drug Nomenclature
International Nonproprietary Names (INNs) in main languages (French, Latin, Russian, and Spanish):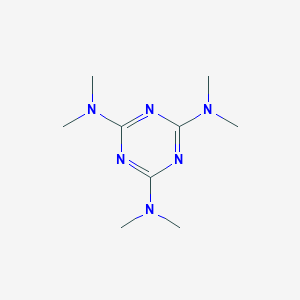 Synonyms: Altretamiini; Altretamin; Altretamina; Altretaminum; HMM; Hexamethylmelamine; NSC-13875; WR-95704
BAN: Altretamine
USAN: Altretamine
INN: Altretamine [rINN (en)]
INN: Altretamina [rINN (es)]
INN: Altrétamine [rINN (fr)]
INN: Altretaminum [rINN (la)]
INN: Альтретамин [rINN (ru)]
Chemical name: 2,4,6-Tris(dimethylamino)-1,3,5-triazine; N2,N2,N4,N4,N6,N6-Hexamethyl-1,3,5-triazine-2,4,6-triamine
Molecular formula: C9H18N6 =210.3
CAS: 645-05-6
ATC code: L01XX03
Read code: y0AKO
Pharmacopoeias. In China and US.
The United States Pharmacopeia 31, 2008 (Altretamine). A white crystalline powder. Insoluble in water; soluble in chloroform. Store in airtight containers.
Adverse Effects, Treatment, and Precautions
For a general outline see Antineoplastics.
Bone-marrow depression is usually moderate, manifesting as leucopenia, thrombocytopenia, and anaemia, and may require dosage reduction; blood counts should be monitored regularly. Nausea and vomiting are common and usually moderate although they may be dose-limiting. Prolonged or high-dose therapy may be associated with neurotoxicity, both peripheral (neuropathies) and central (ataxia, depression, confusion, drowsiness, and hallucinations); neurological examination should be performed regularly and treatment interrupted or the dose reduced as appropriate. Renal toxicity may also be dose-limiting. Other rare adverse effects include rashes, alopecia, and hepatic toxicity.
Handling. Altretamine is irritant; avoid contact with skin and mucous membranes.
Interactions
For a general outline of antineoplastic drug interactions. Pyridoxine appears to reduce the activity of altretamine.
Antidepressants. Severe and potentially life-threatening orthostatic hypotension developed in 3 patients who took amitriptyline or imipramine with altretamine and in a fourth patient who took phenelzine and altretamine. One patient was able to tolerate the antineoplastic with nortriptyline.
Pharmacokinetics
Altretamine is well absorbed from the gastrointestinal tract after oral doses, but is rapidly demethylated in the liver producing variation in plasma-altretamine concentrations. The principal metabolites are pentamethylmelamine and tetramethylmelamine, which are excreted in urine. The elimination half-life has been reported to be 4 to 10 hours.
Uses and Administration
Altretamine is an antineoplastic agent structurally similar to the alkylating agent tretamine (triethylenemelamine) although its mode of action may be different. It is given orally and is licensed for use as a single agent in the palliative treatment of ovarian carcinoma. Altretamine has also been tried in lung cancer. The usual dose as a single agent in ovarian cancer is 260 mg/m daily in four divided doses, for 14 or 21 consecutive days out of a 28-day cycle. Up to 12 cycles may be given. Therapy should be interrupted for at least 14 days, and subsequently restarted at a lower dose of 200 mg/m daily, if the white cell count falls below 2000 cells/mm or the platelet count below 75 000 cells/mm or if neurotoxic or intolerable gastrointestinal symptoms occur. Lower doses are also used in combination regimens.
Preparations
Single-ingredient Preparations
The symbol ¤ denotes a preparation which is discontinued or no longer actively marketed.
Australia: Hexalen; Canada: Hexalen¤; Hexastat¤; Czech Republic: Tretax; France: Hexastat¤; Hong Kong: Hexastat¤; Israel: Hexalen¤; Italy: Hexastat¤; Netherlands: Hexastat¤; Norway: Hexalen; Hexastat¤; New Zealand: Hexalen; Russia: Hexalen (Гексален); Spain: Hexinawas¤; Sweden: Hexalen; Thailand: Hexalen; United Kingdom: Hexalen¤; United States: Hexalen;
Pharmacopoeial Preparations
The United States Pharmacopeia 31, 2008, and Supplements 1 and 2.: Altretamine Capsules