Last updated on November 14, 2020
(British Approved Name, US Adopted Name, rINN)
Drug Nomenclature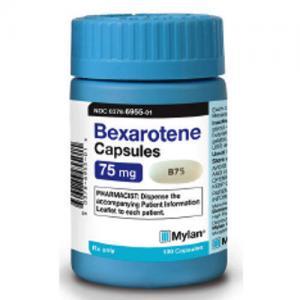 International Nonproprietary Names (INNs) in main languages (French, Latin, Russian, and Spanish):
Synonyms: Beksaroteeni; Bexaroten; Bexaroteno; Bexarotenum; LG-100069; LGD-1069
BAN: Bexarotene
USAN: Bexarotene
INN: Bexarotene [rINN (en)]
INN: Bexaroteno [rINN (es)]
INN: Bexarotène [rINN (fr)]
INN: Bexarotenum [rINN (la)]
INN: Бексаротен [rINN (ru)]
Chemical name: p-[1-(5,6,7,8-Tetrahydro-3,5,5,8,8-pentamethyl-2-naphthyl)vinyl]benzoic acid
Molecular formula: C24H28O2 =348.5
CAS: 153559-49-0
ATC code: L01XX25
Adverse Effects and Precautions
The main adverse effects noted after oral therapy with bexarotene include hyperlipidaemia, hypothyroidism, leucopenia, headache, oedema, altered liver function, rash, and pruritus. Exfoliative dermatitis, alopecia, and skin disorders may occur. Other common adverse effects include anaemia, insomnia, dizziness, eye or ear disorders, gastrointestinal disturbances, arthralgia, and myalgia. Acute pancreatitis has been associated with hypertriglyceridaemia, and patients with risk factors for pancreatitis should generally not be given bexarotene. If triglyceride concentrations rise during therapy, dose reductions are recommended, and lipid-lowering therapy may be instituted (with the exception of gemfibrozil, see below). The most common adverse events associated with topical therapy are rash, pruritus, and pain. Bexarotene capsules and gel should not be used during pregnancy because of the risk of fetal malformation.
Interactions
Gemfibrozil. Gemfibrozil inhibits clearance of bexarotene, resulting in extremely high triglyceride levels and pancreatitis.
Uses and Administration
Bexarotene is an agonist at the retinoid X receptor, which is involved in the regulation of cell differentiation and proliferation. It is used in the treatment of cutaneous T-cell lymphoma (see Mycosis Fungoides), in a usual initial oral dose of 300 mg/m daily as a single dose taken with a meal. Dosage is adjusted according to toxicity. For the topical treatment of refractory disease a 1% gel may be applied on alternate days for the first week, gradually increased at weekly intervals to up to 4 times daily, depending on tolerance.
Proprietary Preparations
Argentina: Targretin;
Chile: Targretin;
Czech Republic: Targretin;
Denmark: Targretin;
France: Targretin;
Germany: Targretin;
Greece: Targretin;
Hungary: Targretin;
Ireland: Targretin;
Italy: Targretin;
The Netherlands: Targretin;
Portugal: Targretin;
Spain: Targretin;
United Kingdom (UK): Targretin;
United States of America (US and USA): Targretin.