Last updated on: October 15, 2021
Carboplatin 10mg/ml Intravenous Infusion
What Carboplatin Intravenous Infusion is and what it is used for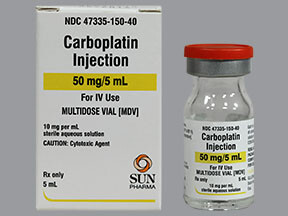 Carboplatin Intravenous Infusion is an anti-cancer medicine in the form of a solution for infusion (a solution which can be given as a slow injection via a drip). Treatment with an anti-cancer medicine is sometimes called cancer chemotherapy.
Each millilitre (ml) of solution contains 10 milligrams (mg) of carboplatin. This medicine is presented in glass containers called vials (standard vials and Onco-Vials). The 5ml vial contains 50mg of carboplatin, the 15ml vial contains 150mg carboplatin, the 45ml vial contains 450mg of carboplatin and the 60ml vial contains 600mg of carboplatin. The standard vials are available in single packs of 5ml, 15ml, 45ml or 60ml. The Onco-Vials are available in single packs of either 5 ml, 15ml or 45ml. Not all pack sizes may be marketed. Onco-Vials are only available in the UK.
Carboplatin is used in the treatment of certain types of lung cancer and ovarian cancer.
Before Carboplatin Intravenous Infusion is used
Carboplatin Intravenous Infusion should not be used:
if you have shown signs of hypersensitivity (severe allergy) to carboplatin or similar medicines on previous occasions
if you have severe kidney disease
if you have fewer blood cells than normal (your doctor will check this)
if you are pregnant, trying to become pregnant or breast-feeding
Special care will be taken:
to ensure the number of cells in your blood does not drop too low. Your doctor will regularly check this
if you have mild renal disease
if you are being given other anti-cancer medicines
if you are being given other medicines that may affect your kidneys or hearing
Please tell your doctor if you are taking, or have recently taken, any other medicines, including ones that are not prescribed for you.
How Carboplatin Intravenous Infusion is used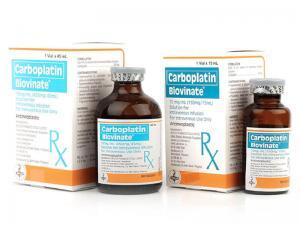 The dose of medicine given to you will depend on your age, your health, how well your kidneys are working and any other medicines you may be taking. This medicine is not normally given to children.
The medicine may be diluted with glucose (sugar solution) or sodium chloride (salt water) before it is given to you. It will be given slowly, usually via a drip into a vein over 15-60 minutes. You may be given another dose of this medicine in 4 weeks.
While you are receiving carboplatin, your doctor will take regular blood tests. This is to measure the effect the drug is having and whether further doses of carboplatin are necessary.
As this medicine will be given to you whilst you are in hospital, it is unlikely that you will be given too little or too much; however, tell your doctor or pharmacist if you have any concerns.
Possible Side-Effects
Like all medicines, carboplatin can have side-effects.
If any of the following happen, tell your doctor immediately:
you have difficulty in breathing
you develop raised, coloured blotches that may also be itchy
swelling and/or flushing (redness) of the face
abnormal heart beat (faster, slower or irregular) or chest pains
These are very serious side-effects which may occur more frequently after previous exposure to platinum therapy. You may need urgent medical attention.
If you experience any of the following tell your doctor as soon as possible:
feeling or being sick
feeling faint, dizzy or about to collapse
feeling weak or tired
stomach pains, diarrhoea or constipation
tingling in your hands, feet, arms or legs
ringing in the ears or changes in your hearing
temporary loss or changes to your eyesight
taste alteration or loss of appetite
loss of hair
rash and/or itchy skin
unexplained bruising or bleeding
fever
flu-like symptoms
redness, pain or swelling at the injection site.
Carboplatin may also affect your kidney and liver function and the number of cells in your blood. Your doctor will monitor such effects with regular blood tests.
Carboplatin may have an adverse effect on sperm and egg formation that may lead to possible risks to the foetus.
If you notice any side-effects not mentioned in this leaflet, please tell your doctor or pharmacist.
Storing Carboplatin Intravenous Infusion
Keep out of the reach and sight of children.
The standard vials should not be stored above 25°C. The Onco-Vials should be stored at 2-8C (in the refrigerator).
All vials should be kept in the outer carton to protect from light.
Do not use after the expiry date printed on the vial label and carton.