Last updated on: September 9, 2021
Overview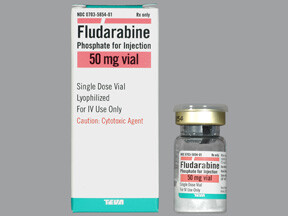 The fludarabine, cyclophosphamide, and mitoxantrone (Serono/Wyeth/Takeda's Novantrone, Baxter's Onkotrone, generics) regimen is under investigation in clinical trials and is used as the standard of care in some hospitals in Germany and Spain.
Mechanism of Action
Fludarabine is a purine analogue and is metabolized rapidly to F-Ara-ATP, which inhibits DNA synthesis by inhibition of DNA polymerases and prevents elongation of DNA strands through direct incorporation into the DNA molecule.
Cyclophosphamide is an alkylating agent. These agents alkylate DNA bases, thereby producing "cross-links" that covalently link the two DNA strands and prevent cell replication.
Mitoxantrone is a synthetic antineoplastic anthracenedione. It is a DNA-reactive agent that intercalates with DNA by hydrogen bonding,causing cross-links and strand breaks. It also reacts with RNA and is a potent inhibitor of topoisomerase II.
Clinical Performance
In vitro studies have demonstrated fludarabine's synergistic effect with both cyclophosphamide and mitoxantrone. On the basis of these results, a clinical trial was designed to test the efficacy of these agents in previously treated chronic lymphocytic leukemia patients. Of the 60 patients treated with FCM, 34 had received one prior therapy, 18 had received two, and 8 had received three or more. Previous therapies included chlorambucil with or without prednisone (70%), cyclophosphamide, doxorubicin, vincristine, prednisone (CHOP) (32%), and fludarabine monotherapy (8%). FCM was administered following relapse in 25 cases (42%) and following development of resistance to prior therapy in 35 (58%) patients.
Thirty patients (50%) achieved a CR and 17 patients (28%) achieved a PR. Of the 30 patients in CR, 10 were found to be negative for minimal residual disease by flow cytometry and polymerase chain reaction (PCR; so-called molecular remission). The CR and PR rate was significantly higher among patients who had relapsed (32% and 40%, respectively) compared with those who were resistant to prior treatment (6% and 28%, respectively). None of the five patients previously treated with fludarabine achieved a CR, although they did respond to FCM therapy. The median duration of response was 19 months in patients who achieved a CR, similar to that achieved with other fludarabine combinations, and was not significantly different if patients were minimal residual disease-negative (17 versus 21 months) or between relapsed and resistant cases.
Hematologic toxicities and infections were the most significant side effects, as reported in other fludarabine-based regimens. Sixty-three percent of patients suffered from grade 3 or 4 neutropenia, and this toxicity was greater in patients who had prior chlorambucil treatment (81% versus 47%). Grade 3/4 thrombocytopenia and anemia were observed in 16% and 17% of cases, respectively, and grade 3/4 infections/fever occurred in 23% of patients.
Although no large-scale trials describing the use of FCM in first-line therapy of chronic lymphocytic leukemia have been performed, the regimen is being used in this setting in some European countries.