Last updated on: October 23, 2021
Boots Pharmacy Heartburn 10 mg Tablets. Omeprazole
What this medicine is for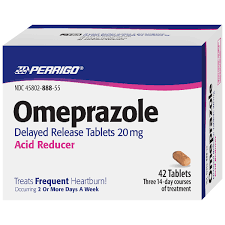 This medicine contains Omeprazole which belongs to a group of medicines called proton pump inhibitors, which act to reduce the amount of acid in your stomach.
It can be used to relieve acid reflux and heartburn, but it will not provide immediate relief of symptoms.
Before you take this medicine
This medicine can be taken by adults aged 18 years and over. However, some people should not take this medicine or should seek the advice of their pharmacist or doctor first.
Do not take:
If you are allergic to any of the ingredients
If you are under 18 years old
If you have an intolerance to some sugars, unless your doctor tells you to (this medicine contains lactose)
If you are pregnant or breastfeeding
!   Talk to your doctor:
If you have had to take indigestion or heartburn medicine continuously for 4 weeks or more, to control your symptoms
If you have long term recurrent symptoms of indigestion or heartburn
If you are 45 years old or over and this is the first time you have had these symptoms, or your symptoms have recently changed
If you have lost weight without trying, are frequently tired or run down
If you have a bleeding stomach (you may be sick and it contains blood or dark particles that look like coffee grounds, pass blood in your stools or pass black tarry stools)
If you have a lump in your stomach
If you have stomach pain, pain on swallowing, difficulty in swallowing
If you are persistently being sick
If you have had a stomach ulcer or surgery
If you have jaundice, or any other liver or kidney problems
If you are due to have an endoscopy or a breath test called a C-urea test
!   Talk to your pharmacist or doctor:
If you are 45 years old or over and taking any non-prescription (over the counter) medicines for indigestion or heartburn on a regular basis
Other important information

Driving and using machines: On rare occasions this medicine may cause drowsiness. You should not drive or operate machinery until you are sure you are not affected.
This medicine reduces the amount of acid that your stomach produces, and can upset the bacteria that live in your stomach. This may make you more susceptible to food poisoning.
If you have any blood tests tell the doctor you are taking these tablets.
If you take other medicines
Before you take these tablets, make sure that you tell your pharmacist about ANY other medicines you might be using at the same time, particularly the following:
Other medicines to reduce stomach acid production (e.g. cimetidine, famotidine, ranitidine or lansoprazole)
Diazepam (for your nerves), phenytoin (for epilepsy), warfarin (a blood thinner)
Ketoconazole, itraconazole or voriconazole (for fungal infections)
Digoxin (for heart problems)
Cilostazol (for leg pain)
Tacrolimus (to reduce the effect of the immune system)
If you are unsure about interactions with any other medicines, talk to your pharmacist. This includes medicines prescribed by your doctor and medicine you have bought for yourself, including herbal and homeopathic remedies.
How to take this medicine
Check the foil is not broken before use. If it is, do not take that tablet.
| | | |
| --- | --- | --- |
| AGE | How many to take | How often to take |
| Adults aged 18 years and over | Two | Once a day, before a meal |
If your symptoms improve, reduce the number of tablets to one tablet a day. Increase to two tablets a day if your symptoms return.
You should always take the lowest amount that controls your symptoms.
Swallow the tablets whole with a drink of water or fruit juice. Do not crush or chew the tablets.
Do not give to children or adolescents under 18 years.
Do not take more than the amount recommended above.
If symptoms do not improve within 2 weeks talk to your doctor.
If you require continuous treatment for more than 4 weeks to relieve your symptoms, talk to your doctor.
If your symptoms reappear shortly after you stop taking these tablets, talk to your doctor.
!   If you take too many tablets: Talk to a doctor straight away. Take your medicine and this leaflet with you.
Possible side effects
Most people will not have problems, but some may get some. ! If you get any of these serious side effects, stop taking the tablets. See a doctor at once:
Difficulty in breathing, swelling of the face, neck, tongue or throat (severe allergic reactions) These other effects are less serious. If they bother you talk to a pharmacist:
Muscle or joint pain
Confusion, agitation, depression, hallucinations
Feeling sick, being sick, diarrhoea, constipation, wind, stomach pain
Headache, dizziness, light headedness, feeling faint, vertigo, pins and needles
Drowsiness, difficulty in sleeping
Skin rash, itchy or lumpy skin (hives)
Rarely, a rash when going into the sun (photosensitivity), hair loss, dry mouth, thrush
Unusual bruising, or infections such as sore throats – this may be a sign of very rare changes in the blood
Very rarely, blurred vision, taste disturbances, aggression, swelling of the hands and feet, low blood sodium levels, sweating, breast enlargement in men, impotence, general discomfort, fever, brain disease in patients with liver problems, kidney problems, increase in liver enzymes, inflammation of the liver with or without yellowing of the skin (jaundice), liver failure
If any side effect becomes severe, or you notice any side effect not listed here, please tell your pharmacist or doctor.
How to store this medicine
Do not store above 30°C. Store in the original package.
Keep this medicine in a safe place out of the sight and reach of children, preferably in a locked cupboard.
Use by the date on the end flap of the carton.
What is in this medicine
Each gastro-resistant coated tablet contains Omeprazole 10 mg, which is the active ingredient.
As well as the active ingredient, the tablets also contain lactose monohydrate, sodium starch glycolate, sodium stearate, sodium stearyl furmarate, hypromellose acetate succinate, talc, triethyl citrate, menoethanolamine, sodium laurilsulfate, sepisperse AP-3527 (containing propylene glycol, titanium dioxide (E171), red iron oxide (E172), hypromellose, yellow iron oxide (E172)), carnauba wax. The pack contains 14 brownish-pink, capsule-shaped film coated tablets.