Last updated on October 26, 2021
(British Approved Name Modified, US Adopted Name, rINNM)
Drug Nomenclature
INNs in main languages (French, Latin, Russian, and Spanish):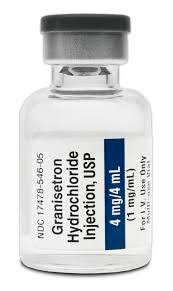 Synonyms: BRL-43694A; Granisetrón, hidrocloruro de; Granisetron-hydrochlorid; Granisetronhydroklorid; Granisetroni Hydrochloridum; Granisetronihydrokloridi; Granisetrono hidrochloridas
BAN: Granisetron Hydrochloride [BANM]
USAN: Granisetron Hydrochloride
INN: Granisetron Hydrochloride [rINNM (en)]
INN: Hidrocloruro de granisetrón [rINNM (es)]
INN: Granisétron, Chlorhydrate de [rINNM (fr)]
INN: Granisetroni Hydrochloridum [rINNM (la)]
INN: Гранисетрона Гидрохлорид [rINNM (ru)]
Chemical name: 1-Methyl-N-(9-methyl-9-azabicyclo[3.3.1]non-3-yl)-1H-indazole-3-carboxamide hydrochloride
Molecular formula: C18H24N4O, HCl =348.9
CAS: 109889-09-0 (granisetron); 107007-99-8 (granisetron hydrochloride)
ATC code: A04AA02
Read code: y028s
Pharmacopoeias. In China, and Europe.
European Pharmacopoeia, 6th ed. (Granisetron Hydrochlonde). A white or almost white powder. Freely soluble in water sparingly soluble in dichloromethane slightly soluble in methyl alcohol. A 1 % solution in water has a pH of 4.0 to 6.5.
Adverse Effects and Precautions
As for Ondansetron, although no dosage reduction is considered necessary in renal or hepatic impairment.
Carcinogen icity
The manufacturer (Roche) has reported an increased incidence of hepatic neoplasms in rodents given very high doses of granisetron for prolonged periods, but the clinical relevance of these results is unknown. Although mutagenicity and genotoxicity have not been seen in some tests, others have reported an increased incidence of polyploidy or unscheduled DNA synthesis in exposed cells.
Effects on the cardiovascular system
For a discussion of the effects of 5-HT3 antagonists on the cardiovascular system, see under Ondansetron.
Interactions
The metabolism of granisetron is induced by phenobarbetal.
Pharmacokinetics
Granisetron is rapidly absorbed after oral doses, with peak plasma concentrations occurring after about 2 hours. Oral bioavailability is about 60% as a result of first-pass hepatic metabolism. Granisetron has a large volume of distribution of around 3 litres/kg plasma protein binding is about 65%. The pharmacokinetics exhibit considerable interindividual variation, and the elimination half-life after an intravenous dose is reported to be around 4 to 5 hours in healthy subjects but about 9 to 12 hours in cancer patients. It is metabolised in the liver, primarily by W-demethylation, with less than 20% of a dose recovered unchanged in urine, the remainder being excreted in faeces and urine as metabolites. Granisetron clearance is not affected by renal impairment, but is lower in the elderly and in patients with hepatic impairment.
Uses and Administration
Granisetron is a 5-HT3 antagonist with an antiemetic action similar to that of ondansetron. It is used in the management of nausea and vomiting induced by cytotoxic chemotherapy and radiotherapy and for the prevention and treatment of postoperative nausea and vomiting. Granisetron is given as the hydrochloride, but doses are expressed in terms of the base. Granisetron hydrochloride 1.1 mg is equivalent to about 1 mg of granisetron base.
For acute nausea and vomiting associated with chemotherapy granisetron is used in prevention and treatment in similar doses.
In the UK, a dose equivalent to 3 mg of granisetron is diluted to a volume of 20 to 50 mL with a suitable infusion solution and given intravenously over 5 minutes before the start of chemotherapy alternatively this dose may be given in 15 mL of infusion solution as a bolus over not less than 30 seconds. The dose may be repeated up to twice in 24 hours doses should be given at least 10 minutes apart and a total daily dose of 9 mg should not be exceeded. The efficacy of granisetron may be enhanced by the use of dexamethasone. The recommended oral dose is 1 to 2 mg within one hour before therapy begins, then 2 mg daily as a single dose or in 2 divided doses.
For use in children, an intravenous infusion of 40 micrograms/kg, up to a maximum total dose of 3 mg, has been recommended, diluted in 10 to 30 mL of infusion fluid and given over 5 minutes. This dose may be repeated once within 24 hours, but at least 10 minutes after the original infusion. Alternatively, children may be given 20 micrograms/kg (up to 1 mg) orally twice daily for up to 5 days during therapy the first dose should be given within 1 hour before the start of chemotherapy.
In the USA, lower intravenous doses of the equivalent of granisetron 10 micrograms/kg are recommended in both adults and children over 2 years of age, beginning within 30 minutes before chemotherapy. Oral doses are the same as those described for the UK above.

For the prevention of nausea and vomiting associated with radiotherapy the recommended adult oral dosage is 2 mg daily taken within 1 hour of irradiation. The drug has also been given intravenously for the treatment and prevention of nausea and vomiting associated with radiotherapy, in similar doses to those recommended above for emetogenic chemotherapy. In the UK the BNFC has recommended similar oral and intravenous doses to those given above (for chemotherapy-induced nausea and vomiting) in both the treatment and prevention of radiotherapy-induced nausea and vomiting in children.
For the prevention of postoperative nausea and vomiting in adults 1 mg is diluted to 5 mL and given by intravenous injection over 30 seconds. Injection should be completed before induction of anaesthesia. The same dose may be given up to twice daily for the treatment of established postoperative nausea and vomiting.
Transdermal and intranasal formulations of granisetron are under investigation.
Pain
For reference to the use of granisetron in various painful syndromes see under Uses and Administration of Ondansetron.
Proprietary Preparations
Argentina: Aludal Eumetic Granitron Kytril Rigmoz
Australia: Kytril
Austria: Kytril
Belgium: Kytril
Brazil: Kytril
Canada: Kytril
Chile: Kytril
Czech Republic: Emegar Kytril
Denmark: Kytril
Finland: Kytril
France: Kytril
Germany: Kevatril
Greece: Granitron Kytril
Hong Kong: Kytril
Hungary: Granigen Kytril
India: Granicip
Indonesia: Kytril
Ireland: Kytril
Israel: Kytril Setron
Italy: Kytril
Japan: Kytril
Malaysia: Kytril
Mexico: Kytril
The Netherlands: Kytril
Norway: Kytril
New Zealand: Kytril
Philippines: Kytril
Portugal: Kytril
Russia: Kytril
South Africa: Kytril
Singapore: Kytril
Spain: Kytril
Sweden: Kytril
Switzerland: Kytril
Thailand: Kytril
Turkey: Kytril Setron
United Kingdom: Kytril
USA: Kytril
Venezuela: Granicip Kytril Rubrum.