Last updated on: September 10, 2021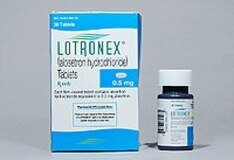 Brand Name Drug: Lotronex
Active Ingredient: alosetron
Indication: Treatment of symptoms of irritable bowel syndrome in women whose primary symptom is diarrhea
Company Name: Glaxo Wellcome
Availability: Approved by FDA on February 9, 2000
Introduction
Irritable bowel syndrome (IBS) sufferers report frequent diarrhea, constipation, or alternating bouts of both, plus bloating and abdominal pain. It is more than twice as common in women as in men. Although the exact cause of IBS is unknown, a disruption in colonic sensory and motor function appears to be a culprit, resulting in hypersensitivity.
Lotronex (alosetron), manufactured by Glaxo Wellcome, offers promise for the treatment of IBS by interfering with the colonic nerve receptors implicated in irritable bowel syndrome. FDA approval for the drug may come as early as spring 2000.
How It Works
Lotronex is a 5-HT3 (serotonin) receptor antagonist. There are many subtypes of the neurotransmitter 5-hydroxytryptamine (HT) expressed and distributed in the bowel. Mucosal enterochromaffin cells are sensory transducers that utilize 5-HT to activate both intrinsic (via 5-HT1P and 5-HT4 receptors) and extrinsic (via 5-HT3 receptors) primary afferent nerves.
Antagonism of 5-HT3 receptors inhibits excitation of extrinsic sensory nerves by 5-HT without interfering with intrinsic enteric reflexes. Lotronex relieves IBS symptoms by antagonizing the effects of 5-HT3 receptors and slowing the transit of contents through the colon.
Lotronex: Clinical Study Results
A 12-week randomized, double-blind, placebo-controlled, dose-ranging study of Lotronex in 370 patients with IBS (defined as frequent diarrhea or alternating constipation and diarrhea) was conducted by investigators at the Mayo Foundation in Rochester, Minnesota. Patients received 1, 2, 4, or 8 mg of Lotronex, or a placebo, twice daily. Relief of IBS symptoms was measured weekly. The findings showed that 1 mg or 2 mg of Lotronex twice daily adequately relieved symptoms in females, but not males.
Stool consistency, frequency, and percentage days with urgency improved significantly with Lotronex compared to placebo within the first month of use at all doses, and persisted throughout the trial. With 1 mg twice daily in females, stool consistency and urgency improved in the first week and adequate relief and improved stool frequency were achieved by the second week. No improvement in bowel function or relief of irritable bowel syndrome symptoms was observed in males.
What the Patient Should Know
The primary side effect with Lotronex reported to date has been constipation. It is important to note that this drug has only been shown to be effective in women, not in men.