Last updated on October 6, 2021
(British Approved Name, rINN)
Drug Nomenclature
International Nonproprietary Names (INNs) in main languages (French, Latin, Russian, and Spanish):
Synonyms: Bromuro de propantelina; Propanteliinibromidi; Propantelin-bromid; Propantelina, bromuro de; Propantelinbromid; Propantelino bromidas; Propanthelini Bromidum; Propanthelinii Bromidum; Propanthelinium-bromid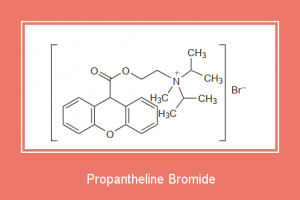 BAN: Propantheline Bromide
INN: Propantheline Bromide [rINN (en)]
INN: Bromuro de propantelina [rINN (es)]
INN: Propanthéline, Bromure de [rINN (fr)]
INN: Propanthelini Bromidum [rINN (la)]
INN: Пропантелина Бромид [rINN (ru)]
Chemical name: Di-isopropylmethyl[2-(xanthen-9-ylcarbonyloxy)ethyl]ammonium bromide
Molecular formula: C23H30BrNO3 =448.4
CAS: 298-50-0 (propantheline); 50-34-0 (propantheline bromide)
ATC code: A03AB05
Read code: y01On [Antispasmodic]
Pharmacopoeias. In China, Europe, Japan and US.
European Pharmacopoeia, 6th ed. (Propantheline Bromide). A white or yellowish-white, slightly hygroscopic powder. Very soluble in water, in alcohol, and in dichloromethane. Store in airtight containers.
The United States Pharmacopeia 31, 2008 (Propantheline Bromide). White or practically white, odourless, crystals. Very soluble in water, in alcohol, and in chloroform practically insoluble in ether and in benzene.
Adverse Effects, Treatment, and Precautions
As for Atropine Sulfate. Contact dermatitis has been reported after topical application of propantheline bromide.
Buccal and oesophageal ulceration. Severe buccal mucosal ulceration has been reported in a 95-year-old woman as a result of retaining emepronium bromide tablets in her mouth, and recurred on giving propantheline bromide tablets.
Interactions
As for antimuscarinics in general (see Atropine Sulfate).
Pharmacokinetics
Propantheline bromide is incompletely absorbed from the gastrointestinal tract and bioavailability is reported to be reduced by food it is extensively metabolised in the small intestine before absorption. The plasma elimination half-life after a single oral dose has been reported to be about 2 to 3 hours. Propantheline is eliminated mainly in the urine as metabolites and less than 10% as unchanged drug. The duration of action is about 6 hours.
Uses and Administration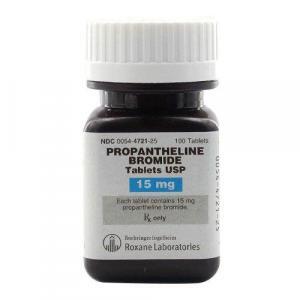 Propantheline bromide is a quaternary ammonium antimuscarinic with peripheral effects similar to those of atropine. It has been used as an antispasmodic for conditions associated with gastrointestinal spasm, and as an adjunct in the treatment of peptic ulcer disease. The usual initial oral dose is 15 mg three times daily, 30 to 60 minutes before meals, and 30 mg at bedtime doses of up to 120 mg daily may be needed in some patients.
In elderly patients, doses of 7.5 mg three times daily may be sufficient. Doses of 300 micrograms/kg (to a maximum of 15 mg) given 3 or 4 times daily have been used for the relief of gastrointestinal spasm in children aged 1 month to 12 years older children may be given the adult dose. Propantheline bromide has been used in the treatment of adult enuresis or urinary incontinence, and in hyper-hidrosis (see below), in doses similar to those given above.
Hyperhidrosis
Some antimuscarinics, including propantheline, have been applied topically in the treatment of hyperhidrosis. Adverse effects of antimuscarinics given by mouth generally preclude their use by this route, although oral propantheline was used successfully to control excessive sweating in 2 patients with spinal cord injuries, and it is sometimes used in palliative care to control night sweats. The BNF notes that pro-pantheline may be used for gustatory sweating in patients with diabetic neuropathy.
Urinary incontinence
In the UK, guidelines issued by NICE suggest that propantheline should not be recommended for the treatment of urinary incontinence or overactive bladder in women other antimuscarinics are preferred.
Preparations
BP 2008: Propantheline Tablets
The United States Pharmacopeia 31, 2008: Propantheline Bromide Tablets
Proprietary Preparations
Australia:: Pro-Banthine
Canada: Propanthel
Denmark: Ercoril
India: Pro-Banthine
Indonesia: Pro-Banthine
Mexico: Propantel
New Zealand: Pro-Banthine
South Africa: Pro-Banthine
United Kingdom: Pro-Banthine
USA: Pro-Banthine
Multi-ingredient
Indonesia: Methaphyllin
Italy: Lexil