Last updated on November 15, 2020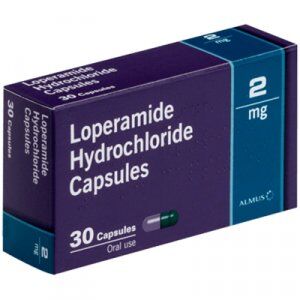 Loperamide, an opioid agonist, is commonly used for patients with diarrhea-predominant irritable bowel syndrome (IBS). The drug increases gastrointestinal (GI) transit time, enhances water and ion absorption, and increases rectal sphincter tone. It is preferred over other opioid agonists for the treatment of diarrhea because it does not cross the blood-brain barrier and has a lower potential for physical dependence. In double-blind, placebo-controlled studies of patients with diarrhea-predominant IBS, loperamide produced a decrease in stool frequency and an improvement in stool consistency, but did not affect abdominal pain or distension. Loperamide is sometimes used prophylactically before events expected to trigger anxiety. The drug is typically given in doses of 2 to 4 mg up to four times a day. Adverse events associated with loperamide are generally mild and may include constipation, dry mouth, or drowsiness. Patients who are refractory to loperamide, or who have post-cholecystectomy diarrhea due to incomplete bile salt absorption or idiopathic bile salt absorption, may be given a trial of cholestyramine. Antispasmodic Agents
Anticholinergic agents (e.g., hyoscyamine, dicyclomine) are the most commonly prescribed medications for the pain and bloating caused by irritable bowel syndrome (IBS). By inhibiting acetylcholine-induced depolarization of smooth muscle, these drugs may suppress intestinal contractions after meals or during times of stress. As previously noted, clinical trials evaluating these medications have been limited by methodological flaws, such as vague entry criteria, high drop-out rates, inadequate trial duration, and variable outcome measures. 
Four smooth muscle relaxants that have been proven to decrease abdominal pain in irritable bowel syndrome (IBS) (i.e., cimetropium, pinaverium, otilonium, trimebutine) are not available in the U.S.Dicyclomine, which is available and commonly used, was associated with global improvement of symptoms and improvement in abdominal pain and constipation in one two-week trial. Treatment with hyoscyamine, another widely utilized agent, produced a global improvement in symptoms in two studies, but specific symptoms were not measured. Both agents are recommended for use on an as-needed basis for postprandial pain as they lose effectiveness when given on a scheduled basis. The usual dose of dicyclomine is 10 to 20 mg three to four times daily for abdominal pain. Hyoscyamine is given sublingually (0.125 mg up to three times a day) or in a timed-release formulation (0.375 mg twice daily). The use of these medications is limited by anticholinergic adverse effects including dry mouth, drowsiness, confusion, constipation, and blurred vision, and should be avoided in patients with arrhythmias, glaucoma, urinary retention, and those who are elderly.
Calcium channel blockers (e.g., nifedipine, diltiazem) can also cause gastrointestinal (GI) smooth muscle relaxation and may potentially benefit patients with increased GI contractions. However, systemic cardiovascular effects, including hypotension, limit their use. Anxiolytic medications, such as benzodiazepines, may have relaxant properties but are not recommended for use in irritable bowel syndrome (IBS) because of the potential for dependence, sedation, and interactions with medications and alcohol. Peppermint oil, which acts similarly to calcium channel blockers, appears to have antispasmodic activity, but clinical trials with the agent have been criticized because of their short duration and use of inappropriate statistical techniques.