Last updated on October 6, 2021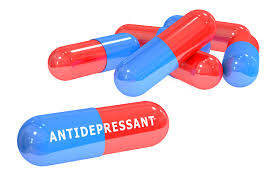 The effectiveness of antidepressant medications in treating irritable bowel syndrome (IBS) may be attributable to several mechanisms including anticholinergic activity, central analgesic effect, and modulation of neurotransmitter activity or a combination of these actions. These agents tend to produce relief of symptoms sooner than a central steady state effect is achieved, and at times with lower doses than used to treat psychological disorders. Tricyclic antidepressants (TCAs) such as amitriptyline and desipramine traditionally have been the agents used as adjuncts to other symptomatic treatments in IBS.
A meta-analysis by Jackson et al evaluated 11 randomized placebo-controlled trials of antidepressants in the treatment of functional gastrointestinal disorders. One study used mianserin, an antiserotonin medication, and the others used the tricyclic antidepressants (TCAs) amitriptyline, clomipramine, desipramine, doxepin, and trimipramine. Antidepressants showed favorable results in the treatment of functional gastrointestinal (GI) disorders. The authors concluded that symptoms were likely to improve in patients treated with antidepressants. Studies by Steinhart et al, Greenbaum et al and Gorard et al, testing amitriptyline, desipramine, and imipramine, respectively, demonstrated varying degrees of improvement in many IBS-related symptoms.
Approximate daily doses for some tricyclic antidepressants (TCAs) prescribed in irritable bowel syndrome (IBS) are amitriptyline 30 to 75 mg, desipramine 75 to 150 mg, trimipramine 30 to 50 mg, nortiptyline 30 mg, and doxepin 100 to 150 mg. Major adverse effects include anticholinergic effects such as dry mouth, urinary retention and constipation, blurred vision, musculoskeletal weakness; cardiovascular effects such as hypotension and arrhythmias; and central nervous system (CNS) effects such as drowsiness, dizziness, nervousness, parkinsonism, and confusion.
Selective serotonin reuptake inhibitors (SSRIs), also prescribed for patients with IBS, have been at least as effective in many of the same indications as the TCAs, with a more favorable safety and tolerability profile.SSRIs may also modulate the effects of serotonin on the peripheral and visceral pathways. Creed et al conducted a trial using paroxetine combined with psychotherapy in patients with severe irritable bowel syndrome (IBS) who were not responding to standard pharmacotherapy, and compared results to psychotherapy alone and treatment as usual for a three-month period.
Nearly half the study population was categorized as having general IBS; remaining patients were divided almost equally between constipation- or diarrhea-dominant irritable bowel syndrome (IBS). At three months, the paroxetine group realized a significant improvement in number of days with abdominal pain versus the treatment-as-usual arm, as did the psychotherapy group. At one-year follow-up, improvements in frequency and severity of abdominal pain were similar, but at the same time, health-related quality of life was significantly improved in both treatment groups. The ACG task force does not include selective serotonin reuptake inhibitors (SSRIs) in its recommendations for adjuvant antidepressant therapy, primarily because of a lack of randomized controlled trials.