Last updated on September 5, 2021
Drug Nomenclature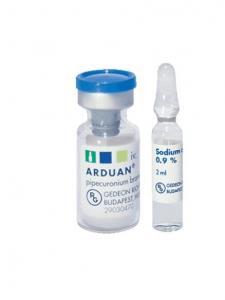 Synonyms: Bromuro de pipecuronio; Pipecurium Bromide; Pipecuronii Bromidum; Pipecuronio, bromuro de; Pipekuroniumbromid; Pipekuroniumbromidi; RGH-1106
BAN: Pipecuronium Bromide
USAN: Pipecuronium Bromide
INN: Pipecuronium Bromide [rINN (en)]
INN: Bromuro de pipecuronio [rINN (es)]
INN: Pipécuronium, Bromure de [rINN (fr)]
INN: Pipecuronii Bromidum [rINN (la)]
INN: Пипекурония Бромид [rINN (ru)]
Chemical name: 1,1,1´,1´-Tetramethyl-4,4´-(3α,17β-diacetoxy-5α-androstan-2β,16β-diyl)dipiperazinium dibromide
Molecular formula: C35H62Br2N4O4 =762.7
CAS: 52212-02-9 (anhydrous pipecuronium bromide); 68399-57-5 (pipecuronium bromide dihydrate)
ATC code: M03AC06
Profile
Pipecuronium bromide is an aminosteroidal competitive neuromuscular blocker (see Atracurium). Pipecuronium is reported to have no significant cardiovascular adverse effects or histamine-related effects. On intravenous injection muscle relaxation occurs within 2.5 to 3 minutes with a duration of action of about 30 minutes to 2 hours, depending on the dose.
Pipecuronium bromide has been used for endotracheal intubation and to provide muscle relaxation in general anaesthesia for surgical procedures (see Anaesthesia) and to aid mechanical ventilation (see Intensive Care). Doses of neuromuscular blockers need to be carefully titrated for individual patients according to response, and may vary with the procedure, the other drugs given, and the state of the patient; monitoring of the degree of block is recommended in order to reduce the risk of overdosage.
Initial doses of 80 to 100 micrograms/kg intravenously have been recommended, with subsequent doses of 10 to 20 micrograms/kg. Lower initial doses are given following suxamethonium or in patients at high risk: 50 to 60 micrograms/kg has been recommended, or 35 micrograms/kg for caesarean section.
Proprietary Preparations
Austria: Arpilon ;
Czech Republic: Arduan;
Hungary: Arduan;
Poland: Arduan;
Russia: Aperomid; Arduan.