Last updated on October 7, 2021
Bromfenac (Duract, Wyeth-Ayerst Laboratories) was cleared for marketing by the FDA on July 15, 1997 and provides an alternative to opioids for the management of acute pain. It provides fast relief of acute pain without the bothersome side effects of opioid analgesics.
How It Works
Bromfenac is a peripherally acting analgesic that belongs to the nonsteroidal anti-inflammatory drug (NSAID) class. Although the exact mechanism of action of this class of drugs is not known, there are many theories. Duract (bromfenac) seems to have anti- inflammatory, antinociceptive, and antipyretic effects. These activities of the drug are thought to be the result of its inhibition of the arachidonic acid cascade at the cyclooxygenase level.
Following bromfenac administration, the onset of analgesia occurs within about 30 minutes. The peak effect is seen within 2 to 3 hours and lasts about 6 to 7 hours. Bromfenac is more than 99% protein bound and has an elimination half-life of about 1.3 hours. The half-life, however, does not correlate with the duration of action of this drug. Bromfenac is metabolized by the liver into a cyclic amide metabolite and four glucuronide conjugates of aglycone metabolites and is excreted via the urine.
Duract (Bromfenac): Clinical Tips
Currently, the recommended dose for bromfenac is 25 mg every 6 to 8 hours for short-term pain management. If bromfenac is to be taken with a high-fat meal, the dose should be increased to 50 mg every 6 to 8 hours. However, the total daily dose of bromfenac should not exceed 150 mg. If a physician wishes to prescribe this medication for longer than 4 weeks, it would be advisable to monitor the liver enzymes, which can become elevated. Other possible adverse events include abdominal pain, headache, nausea, and vomiting.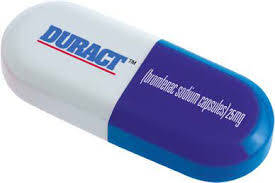 Although opioids have proved to be excellent agents in the management of moderate to severe pain, their adverse event profile leaves much to be desired. These agents are known to make people drowsy, tired, and "spaced out," often leading to noncompliance with the drug regimen. The efficacy of Duract (bromfenac) in relieving pain has already been demonstrated, and, unlike opioids, it does not interfere with people's lifestyles. As experience with this agent grows, people may elect to use it instead of the opioid analgesic because of its favorable adverse event profile.