Last updated on May 12, 2023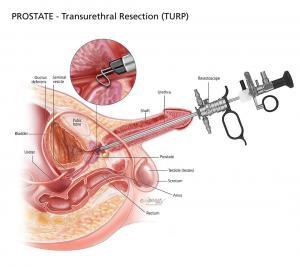 Experts predict that one out of every two men will eventually develop lower urinary tract symptoms that require medical treatment during their lifetime. Given these numbers, finding the best treatment for the cause of these symptoms— benign prostate hyperplasia (BPH)—is an important goal.
Prostate resection, an operation in which part of the prostate is removed, has been the standard therapy for benign prostate hyperplasia for decades. In recent years, treatments based on removing prostate tissue using heat have been developed. These include microwave therapy, ultrasound, and needle ablation.
A recent study in the" Journal of Urology" compared the success of prostate resection and transurethral needle ablation in 121 men with benign prostate hyperplasia. The men were randomly assigned to receive one of the procedures, and their progress was followed for six months. In addition to several measures of symptoms, the researchers evaluated objective measures of free urinary flow and pressure flow. The study took place at seven centers around the United States.
Measured after treatment and again six months later, both procedures produced significant improvements in symptoms, quality-of-life, and free urine and pressure flow. Resection, however, produced significantly more improvement in urine flow than ablation. There were no other differences between the two groups at six months after treatment.
The researchers also wanted to know if objective measures of urinary flow can predict how well patients will respond to treatment. These measures, however, did not predict response either right after treatment or at the six-month follow-up. The researchers concluded that these tests do not help doctors decide which treatment is best for each individual patient.
Even though there was no difference in how much patient symptoms improved, resection did decrease urinary obstruction more than ablation. On the other hand, the degree of obstruction did not predict how well patients would respond to treatment. The researchers concluded that more research is needed in this area before conclusions about the "best" treatment can be made.