Last updated on: September 23, 2021
Health, Happiness and Security
The creation of the National Health Service
Frank Honigsbaum
Routledge, London
1989, 286 pages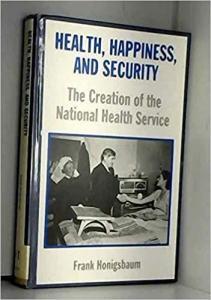 Health, happiness and security describes in detail the ideas and events which led to the founding of the National Health Service in 1948. The author intends that the part played by civil servants should form the central thread of a narrative which begins in 1911. But, seen through the eyes of a doctor, this is an account of the medical profession's movement towards the same goal of a comprehensive service and the struggles which this movement entailed — struggles to avoid the control, in turn, of the friendly societies, the approved societies, local authorities and finally, but with less determination, the Department of Health.
Almost hidden within this movement towards the major goal was another of comparable importance — to enlarge and develop a specialist service which would take over the extensive work done by general practitioners in hospitals and establish for specialists a commanding role in medical care. This proved to be a crucial step in the division of British medicine into primary and secondary care, which is now the most distinctive feature of our system. In both movements the figure of Charles Wilson, Lord Moran, looms large.
This book appears at a time when an upheaval comparable to that of 1945-48 is taking place in the health service. Was this the reason for writing the book? The evidence suggests rather that the reason was the recent availability of crucial documents. In addition, it would have been impossible to write in such detail, with such careful referencing and so little bias without long preparation. Indeed the author's interest goes back 30 years. This is historical writing, not journalism — and it is not for the casual reader.