Last updated on October 7, 2021
Drug Approvals
(British Approved Name, rINN)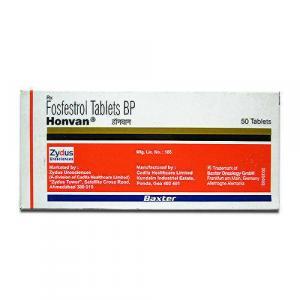 Synonyms: Diethylstilbestrol Diphosphate; Fosfestrol; Fosfestroli; Fosfestrolum; Phosphoestrolum; Stilboestrol Diphosphate
BAN: Fosfestrol
INN: Fosfestrol [rINN (en)]
INN: Fosfestrol [rINN (es)]
INN: Fosfestrol [rINN (fr)]
INN: Fosfestrolum [rINN (la)]
INN: Фосфэстрол [rINN (ru)]
Chemical name: (E)-α,α´-Diethylstilbene-4,4´-diol bis(dihydrogen phosphate); (E)-4,4´-(1,2-Diethylvinylene)bis(phenyl dihydrogen orthophosphate)
Molecular formula: C18H22O8P2 =428.3
CAS: 522-40-7
ATC code: L02AA04
Read code: y0498
Pharmacopoeias. In Japan and US.
The United States Pharmacopeia 31, 2008 (Diethylstilbestrol Diphosphate). An off-white, odourless, crystalline powder. Sparingly soluble in water soluble in alcohol and in dilute alkali. Store in airtight containers at a temperature not exceeding 21°.
Fosfestrol Sodium
Drug Approvals
(British Approved Name Modified, rINNM)
BAN: Fosfestrol Sodium [BANM]
INN: Fosfestrol Sodium [rINNM (en)]
INN: Fosfestrol sódico [rINNM (es)]
INN: Fosfestrol Sodique [rINNM (fr)]
INN: Natrii Fosfestrolum [rINNM (la)]
INN: Натрий Фосфэстрол [rINNM (ru)]
Molecular formula: C18H18Na4O8P2 =516.2
CAS: 23519-26-8 (fosfestrol tetrasodium xH2O); 4719-75-9 (anhydrous fosfestrol tetrasodium)
ATC code: L02AA04
Pharmacopoeias. In British, which specifies xH20.
British Pharmacopoeia 2008 (Fosfestrol Sodium). A white or almost white powder. Freely soluble in water practically insoluble in dehydrated alcohol and in ether. A 5% solution in water has a pH of 7.0 to 9.0. Protect from light.
Adverse Effects and Precautions
As for Diethylstilbestrol.
After intravenous injection of fosfestrol sodium there may be a temporary burning sensation in the perineal region and pain at the site of bony metastases. Slow infusion is not recommended as cytotoxic concentrations of the drug may not be achieved.
Uses and Administration
Fosfestrol is a synthetic nonsteroidal oestrogen that requires dephosphorylation to diethylstilbestrol before it is active. It is used in the treatment of malignant neoplasms of the prostate.
Fosfestrol and its sodium salt have both been used, and doses of fosfestrol sodium may be expressed in terms of either the base or the salt anhydrous fosfestrol sodium 300 mg is equivalent to about 250 mg of fosfestrol. Expressed in terms of fosfestrol sodium, initial doses of 600 to 1200 mg daily by slow intravenous injection over about 1 hour may be given for 5 to 10 days, followed by 300 mg daily for 10 to 20 days. Injections should be given preferably with the patient lying down. Maintenance intravenous doses of fosfestrol sodium 300 to 600 mg may be given, reduced gradually over several months from dosing 4 times a week to once weekly. Fosfestrol sodium may also be given orally. If initial doses cannot be given intravenously, doses of 360 to 480 mg three times daily have been given orally. For maintenance therapy, doses of 120 to 240 mg three times daily may be used, and gradually reduced to 240 mg daily.
Preparations
British Pharmacopoeia 2008: Fosfestrol Injection Fosfestrol Tablets
The United States Pharmacopeia 31, 2008: Diethylstilbestrol Diphosphate Injection.
Proprietary Preparations
Argentina: Fosfostilben Honvan
Austria: Honvan
Belgium: Honvan
Brazil: Ronvan
Canada: Honvol
France: ST-52
Germany: Honvan
Greece: Honvan
Hong Kong: Honvan
India: Honvan
Mexico: Honvan
The Netherlands: Honvan
Port Honvan
Spain: Honvan
Switzerland: Honvan