Last updated on September 5, 2021
Brand Name: Sarafem
Active Ingredient: fluoxetine
Indication: Treatment of premenstrual dysphoric disorder; as Prozac, also approved for the treatment of depression, obsessive compulsive disorder, and bulimia
Company Name: Eli Lilly and Company
Availability: Approved by FDA on July 6, 2000
Introduction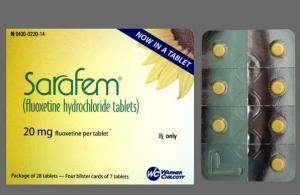 For the 3-5% of menstruating women in the US who suffer from premenstrual dysphoric disorder (PMDD, more commonly known as PMS), the FDA has officially approved the first drug that may help them: Sarafem (fluoxetine). Manufactured by Eli Lilly and Company, fluoxetine has been marketed under the trade name Prozac for the treatment of depression, obsessive compulsive disorder, and bulimia. Clinical studies have shown that Sarafem is effective for improving mood, physical symptoms, and social functioning in women suffering from PMDD.
The FDA's Psychopharmacologic Advisory Committee recommends that Sarafem only be used in women whose PMDD symptoms are severe enough to interfere with functioning at work or school, or with social activities or relationships. To support a diagnosis of PMDD, the symptoms must occur regularly in the luteal phase of a woman's menstrual cycle, and disappear after the onset of menstruation.
The recommended starting dose of Sarafem is 20 mg daily. The drug will be packaged in a box of four 7-day blister packs that can help patients track their own adherence to the treatment regimen. Educational materials will also be provided to help women understand their PMDD diagnosis and treatment. Sarafem is scheduled to be available in pharmacies in August 2000.
How It Works
The mechanism of action of Sarafem in PMDD is unknown. However, it is presumed to be linked to its inhibition of CNS neuronal uptake of serotonin. Studies at clinically relevant doses have demonstrated that fluoxetine blocks the uptake of serotonin into human platelets. Studies in animals also suggest that fluoxetine is a much more potent uptake inhibitor of serotonin than of norepinephrine.
Sarafem (fluoxetine): Clinical Study Results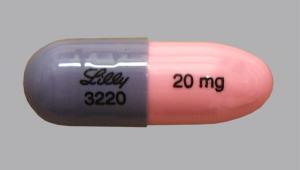 The efficacy of Sarafem for treating PMDD was established in several clinical trials.
In the first study (ref. 1), 320 patients received Sarafem (20 mg/day or 60 mg/day) or a placebo continuously during the menstrual cycle for 6 months. Sarafem at both doses was significantly more effective than placebo, as measured by Visual Analogue Scale (VAS) total score (including mood and physical symptoms). The average VAS score decreased by 7% on placebo, 36% on the 20 mg Sarafem dose, and 39% on the 60 mg Sarafem dose.
In a second trial, 19 patients with PMDD were treated with 20-60 mg/day Sarafem and placebo continuously for a period of 3 months each. Sarafem was significantly more effective than placebo as measured by within cycle follicular to luteal phase changes in the VAS total score, which was 3.8 times higher during placebo treatment than during Sarafem treatment.
In a third study (Pearlstein et al), Sarafem was shown to be significantly more effective than bupropion and placebo in 34 women with PMDD treated through three menstrual cycles. Ozeren et al also demonstrated the efficacy of 20 mg/day of Sarafem in PMDD compared to placebo in a trial of 35 patients. Steiner et al confirmed these findings in a study of 180 women with PMDD, and they also showed that the 60 mg/day dose was associated with more side effects than the 20 mg/day dose.
What the Patient Should Know
The most commonly observed adverse events in patients taking Sarafem were rhinitis, headache, nausea, asthenia, pharyngitis, dizziness, nervousness, and difficulty concentrating.
Sarafem should not be taken until at least 2 weeks have passed since taking an MAO inhibitor, and an MAO inhibitor is contraindicated for at least 5 weeks after discontinuing Sarafem. Thioridazine should not be taken with Sarafem and not for at least 5 weeks after discontinuing Sarafem.
Sarafem should be discontinued immediately if a rash or other possibly allergic manifestation appears for which no alternate etiology can be identified.