Last updated on September 10, 2021
Overview

Even though immunosuppressive agents such as azathioprine (Glax-oSmithKline's   Imuran,   generics)  and  cyclosporine   (Novartis'   Sandimmune/Neoral, generics) have been used for decades to treat the signs and symptoms of rheumatoid arthritis, development of novel agents in this class for rheumatoid arthritis has been sluggish because of efficacy and safety concerns that have arisen in clinical trials of agents under development. Nonetheless, companies are pursuing development of immunosuppressive therapies.
Excluded from this analysis are immunomodulators currently in Phase II trial programs but for which large-scale trial data are currently lacking, including Androclus Therapeutics' AT-001 and Wyeth's temsirolimus.
Mechanism Of Action
Immunosuppressants function through a variety of mechanisms, but they generally target key immunologic processes and molecules. In general, these agents exert their effects by blocking the activation of T-helper and cytotoxic T lymphocytes, promoting the accumulation of anti-inflammatory molecules, and decreasing the formation of antibodies.
Tacrolimus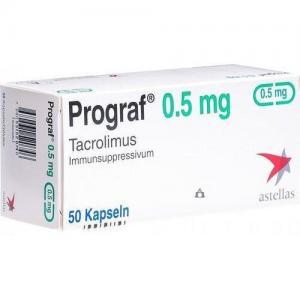 Tacrolimus, or FK-506 (Astellas's Prograf), has been launched for atopic dermatitis and for the prophylaxis of liver and kidney allograft rejection. A supplementary new drug application (NDA) was filed in Japan for rheumatoid arthritis in November 2002, and in April 2005 the drug was approved for the treatment of rheumatoid arthritis in patients who responded insufficiently to conventional treatments.
The drug will be marketed in Japan by Astellas, formed from the merger of Fujisawa and Yamanouchi. The agent is in Phase III trials in the United States and in Phase II in Europe.
Tacrolimus is a microbial product isolated from the bacterium Streptomyces tsukubaensis. The drug binds to a T-cell-specific FK-binding protein, preventing T-cell activation, proliferation, and survival. As an immunosuppressant, tacrolimus is 50-100 times more potent than cyclosporine, as measured by inhibition of lymphocyte activation in vitro.
The safety and efficacy profiles of tacrolimus appear to be favorable both as monotherapy and in combination with methotrexate. A six-month, randomized, double-blind, placebo-controlled Phase III trial that enrolled 464 patients with active rheumatoid arthritis who were intolerant of or refractory to one or more Disease-modifying antirheumatic drugs, including methotrexate, found that 18.8% and 26.8% of patients receiving 2 mg and 3 mg, respectively, of tacrolimus daily achieved an ACR 20 response compared with 10.2% of patients receiving placebo. Of the patients receiving 2 mg and 3 mg of tacrolimus, 11.7% and 11.8%, respectively, achieved ACR 50 responses compared with 4.5% of patients in the placebo group.
A 12-month, open-label extension of this trial, which enrolled 896 patients, sought to establish the long-term safety of tacrolimus. This study involved patients who chose to enroll in the extension trial, together with an additional 685 patients who either had never received tacrolimus or had not received it in 11 months or more. All patients received 3 mg of tacrolimus daily; 38.4% achieved ACR 20, 18.6% achieved ACR 50, and 9.0% achieved ACR 70. The drug was found to be generally well tolerated in this study; minor side effects included diarrhea (14.6%), nausea (10.3%), tremor (9.0%), and headache (8.7%).
Tacrolimus is occasionally used off-label in rheumatoid arthritis patients who are refractory to methotrexate and other marketed Disease-modifying antirheumatic drugs, a practice that may be indicative of the limited patient population to whom this agent will be prescribed when it is approved for rheumatoid arthritis.