Last updated on May 30, 2023

Brand Name Drug: Celebrex
Active Ingredient Drug: celecoxib
Indication: Newest indication is for patients with familial adenomatous polyposis; also indicated for osteoarthritis and rheumatoid arthritis
Company Name: Searle and Pfizer Inc
Availability: Approved by FDA for familial adenomatous polyposis on December 23, 1999
Introduction
Familial adenomatous polyposis (FAP) is a hereditary disease characterized by the development of hundreds and even thousands of potentially precancerous adenomatous polyps in the colon and rectum, which typically first appear in adolescence and early adulthood. Left untreated, virtually all patients with FAP develop colorectal cancer by age 40 or 50. The mainstay of care for these patients has been endoscopic surveillance and surgery when necessary.
Now the first drug ever to be approved for treating FAP is available: Celebrex (celecoxib), manufactured by Searle and Pfizer. Celebrex has been available for patients with osteoarthritis and rheumatoid arthritis, and is now indicated for the treatment of patients with FAP. Celebrex works by inhibiting the COX-2 enzyme. The recommended dose for FAP patients is 400 mg twice daily. Celebrex is not meant to replace the usual endoscopic surveillance and surgeries that FAP patients currently undergo, but rather to supplement this care.
Celecoxib (Pfizer/Astellas's Celebrex) received FDA approval for the treatment of OA and rheumatoid arthritis in December 1998 and was launched in Europe in 2000. Pfizer markets this agent in all the countries under study except Japan, where Astellas Pharma (formerly Yamanouchi Pharmaceuticals, which merged with Fujisawa Pharmaceuticals on April 1, 2005, to form Astellas Pharma) is guiding it through clinical development.
A new drug application (NDA) for pain and other symptoms of rheumatoid arthritis and OA was submitted in Japan in December 2002, with approval expected in 2004, but the application was still under consideration at the time of the writing of this report. Celecoxib gained FDA approval for the management of acute pain and primary dysmenorrhea in October 2001, and it is approved in the United States and Europe as an adjunct treatment for familial adenomatous polyposis (FAP). These additions give celecoxib the broadest range of approved indications of any selective COX-2 inhibitor. The agent is also in development for a range of further indications such as pancreatic and prostate cancers. Patent coverage extends to the end of 2013 in the United States and to the end of 2014 in other countries under study.
Mechanism of Action and Study Results
Celecoxib works by the same mechanism of action as all selective COX-2.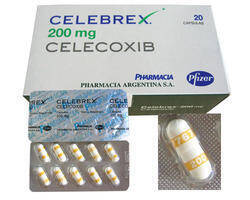 The numerous trials of celecoxib have been designed primarily to show that its efficacy in OA and rheumatoid arthritis is comparable to that of other NSAIDs and to highlight its improved GI safety. In three large clinical trials that cumulatively involved more than 2,000 patients, celecoxib at doses of 100, 200, and 400 mg twice daily was found to have significantly better efficacy than placebo and similar efficacy to traditional NSAIDs — namely, naproxen 500 mg twice daily or diclofenac slow release 75 mg twice daily. These studies also showed a lower incidence of upper GI events as compared with traditional NSAIDs, suggesting that celecoxib has decreased GI toxicity.
Pfizer designed the Celecoxib Long-Term Arthritis Safety Study (CLASS) in hopes of providing statistically significant evidence that celecoxib results in fewer GI adverse events than traditional NSAIDs, much as the VIGOR trial did for rofecoxib. The double-blind, randomized, one-year CLASS trial assigned 8,059 OA and rheumatoid arthritis patients to receive celecoxib 800 mg, ibuprofen 2,400 mg, or diclofenac 150 mg daily. The celecoxib dose used was four times that recommended for OA and twice the recommended highest rheumatoid arthritis dose.
Patients were allowed to take concomitant aspirin for cardiovascular prophylaxis. The main outcome measures were the incidence of symptomatic upper GI ulcers and ulcer complications. Preliminary analysis at six months suggested that the celecoxib-treated group had significantly fewer upper GI incidents than the NSAID-treated groups. Based on these results, Pfizer petitioned the FDA for a revision of celecoxib's labeling. However, the full data at one year showed that celecoxib did not differ from traditional NSAIDs in its effect on the predefined GI end points, although there may have been fewer GI events in celecoxib-treated patients who were not taking aspirin. The FDA concluded that CLASS did not show a safety advantage in upper GI events for celecoxib as compared with traditional NSAIDs and that the celecoxib label should continue to have the standard warning associated with all NSAIDs, including risks of GI ulceration, bleeding, and perforation.
As mentioned in the overview of selective COX-2 inhibitors, there are concerns that celecoxib may be associated with an increased risk of cardiovascular adverse events. A meta-analysis of more than 18,000 patients in four clinical trials, including CLASS, concluded that the risk of cardiovascular events in patients treated with celecoxib was significantly higher than placebo-treated patients. In December 2004, the Data Safety Monitoring Board for the Prevention of Sporadic Colorectal Adenomas with Celecoxib (APC) trial recommended suspension of the trial based on interim data at 33 months indicating an increased risk of serious cardiovascular events, including myocardial infarction, stroke, and death, in patients treated with celecoxib (200 or 400 mg twice daily) as compared with placebo-treated patients.
The frequency of adverse cardiovascular events in this trial was as follows: 7 of 679 patients in the placebo group, 16 of 685 patients in the 200 mg celecoxib group, and 23 of 671 patients in the 400 mg celecoxib group (corresponding to hazard ratios of 1.0, 2.3, and 3.4, respectively), suggesting that celecoxib use was associated with a dose-related increase in cardiovascular risk. In response to the APC data, the Prevention of Colorectal Sporadic Adenomatous Polyps Trial (PreSAP) and ADAPT were also suspended despite the lack of an increased cardiovascular risk for celecoxib-treated patients over placebo in these trials. However, most epidemiological studies and clinical trials with up to one-year duration show no increased cardiovascular risk for celecoxib over placebo or traditional NSAIDs. Although celecoxib may increase the risk of adverse cardiovascular events, this risk is significantly lower than that of rofecoxib.
Pending further analysis of the trial data and the dosages employed, the FDA has advised physicians to evaluate the risk-benefit ratio of celecoxib in individual patients and, if continued use is considered appropriate, advises the use of the lowest effective dose for the shortest possible time (FDA Alert, December 2004). Elsewhere, regulatory authorities have recommended that celecoxib be reserved for patients at risk for GI complications and that it not be used in patients with established heart disease or those at high risk of cardiovascular or cerebrovascular events.
What the Patient Should Know
The most common side effects associated with Celebrex are diarrhea, abdominal pain, and dyspepsia. As with all NSAIDs, Celebrex has the potential to cause gastrointestinal bleeding, particularly in patients with bleeding disorders and those taking anticoagulants such as warfarin. Therefore, patients should be educated about the signs and symptoms of such bleeding and advised to seek medical attention promptly should it occur. Patients should also report any skin rash, unexplained weight gain, or edema to their health-care providers.
Patients with a known allergy to sulfonamides or to aspirin or other NSAIDs, particularly those who may develop aspirin-sensitive asthma, should not take Celebrex (celecoxib). The drug should be used with caution in patients with hepatic or renal impairment, and in those with fluid retention, hypertension, or heart failure (since some patients taking Celebrex have experienced fluid retention and edema). Celebrex may interact with ACE inhibitors, furosemide, fluconazole, and lithium. Patients taking these drugs should inform their physicians.